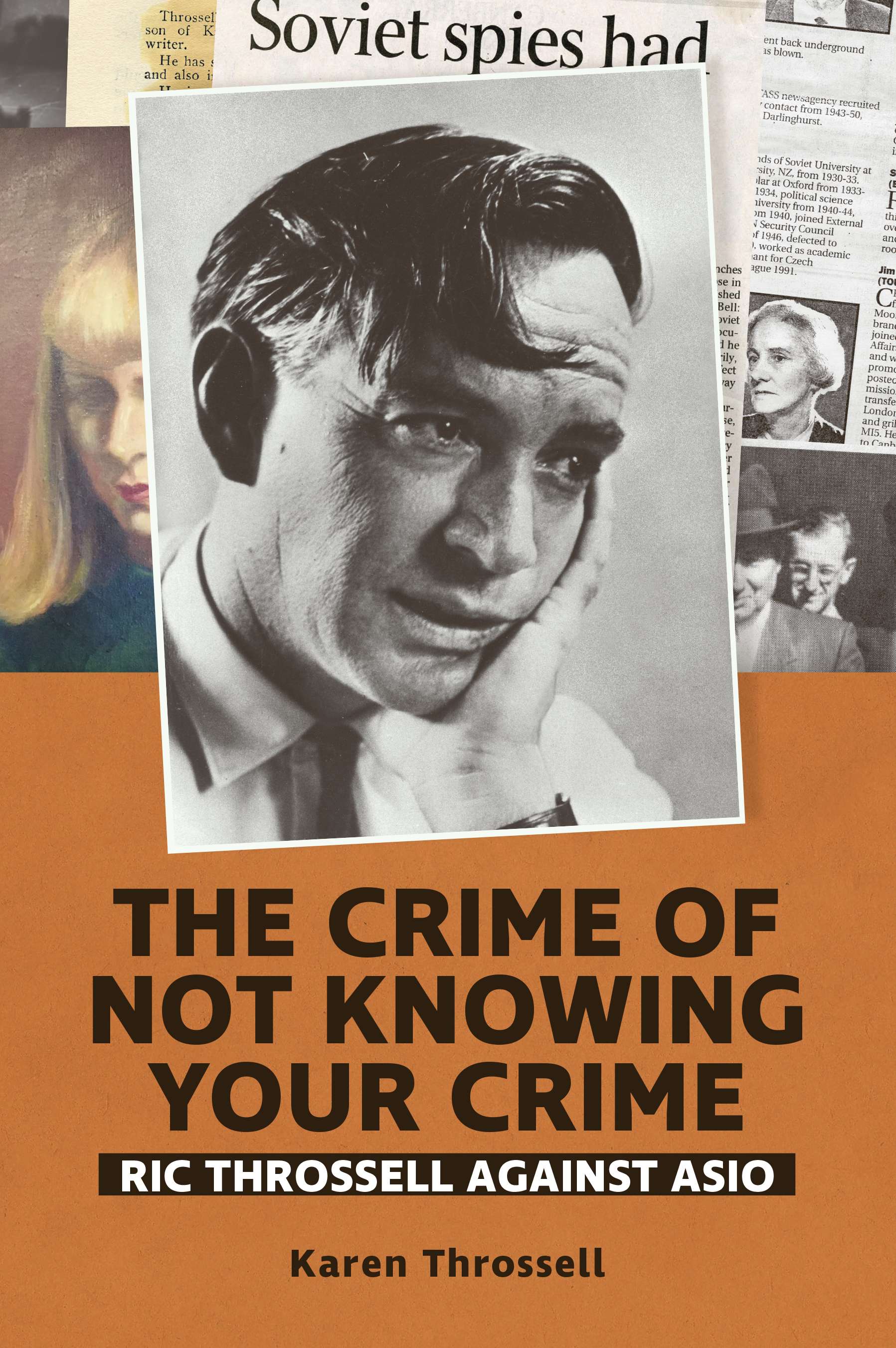 The Crime of Not Knowing Your Crime
Ric Throssell Against ASIO
My grandmother was one of Australia's greatest novelists, my grandfather won the Victoria Cross for gallantry and my father was hounded all his life as a spy.
This is a three generational story. It's about my life; it's about my father, Ric; it's about my grandparents, the writer Katharine Susannah Prichard and the war hero Hugo Throssell.
It's a study of the psychology of spies and those obsess about them, a narrative of guilt and innocence told through poetry, prose and historical documents.
It's a tale from another time - but one with obvious relevance, given how regularly governments rely on fear and scapegoating today.
Let me tell you what was done to my family.
"Through entwined poetry and prose, Karen Throssell illuminates ASIO's persecution of her extraordinary family. In the post 9/11 era, too many Australians have forgotten what happened in the Cold War. That's why this story matters".
- Jeff Sparrow, writer and broadcaster
Two excerpts from the book have been published in The Western Worker, which you can download here (the excerpts are on page 40).
About the Author
Karen Throssell is an award-winning writer and poet, with five poetry collections and a book of creative non-fiction The Pursuit Of Happiness (1988). She has also published in journals and anthologies including Overland, Westerly, Meanjin, Quadrant, Hecate and Artstreams. Karen was shortlisted for the 2017 Book of the Year Award - Poetry (Society of Australian Women Writers) and an earlier version of The Crime of not knowing your Crime was shortlisted in 2017 for the Dorothy Hewett award for works of creative non-fiction. Her work reflects her commitment to radical politics, literature and feminism.
Phillip Deery
Phillip Deery is a Cold War historian. His books include Red Apple: Communism and McCarthyism in Cold War New York (2014), The Age of McCarthyism: A Brief History with Documents (2017) and Sparrows and Spies: ASIO and the Cold War in Australia, 1949-1975 (2022). He is an Emeritus Professor of History at Victoria University.
Reviews