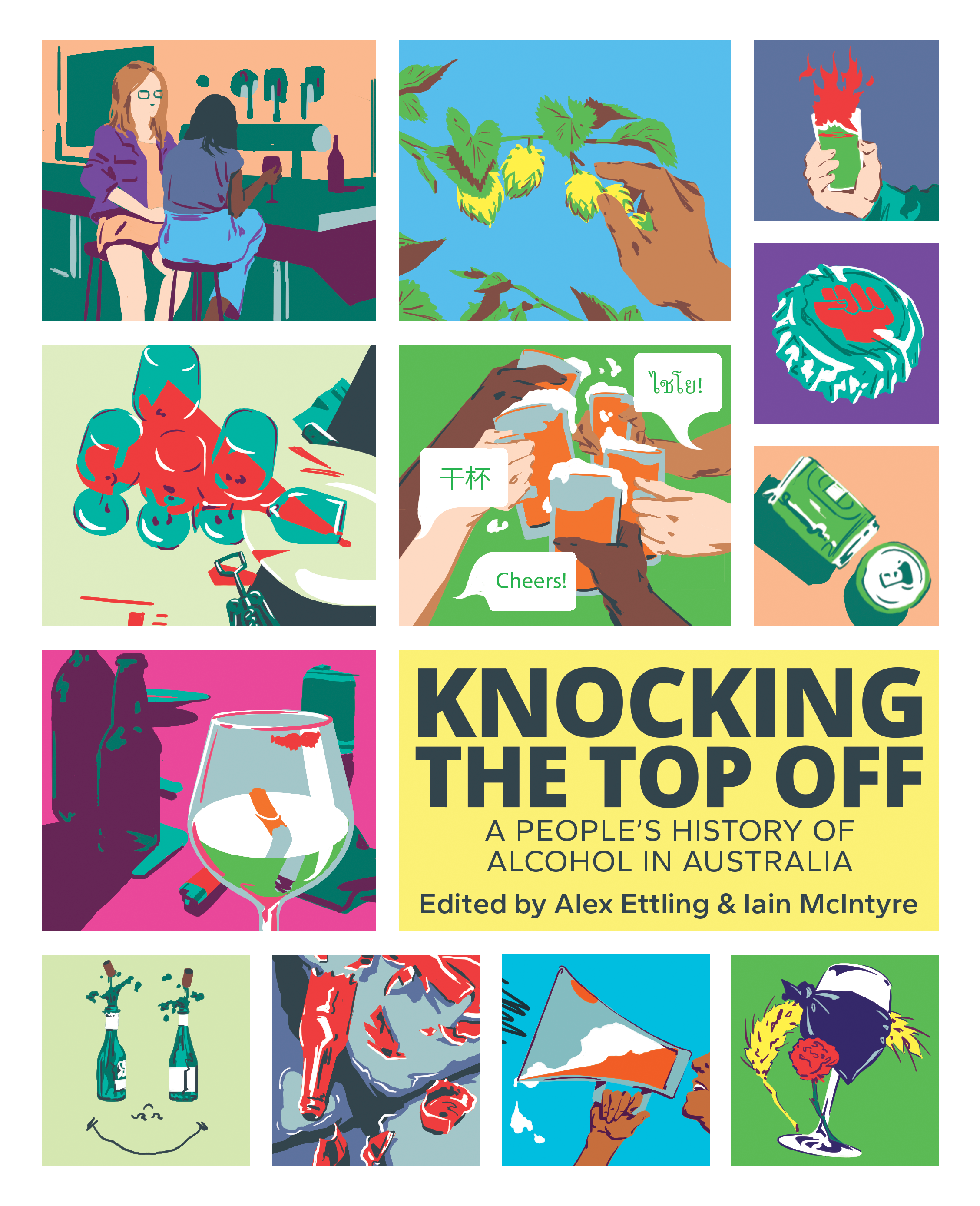 Knocking The Top Off
A People's History of Alcohol in Australia
An intoxicating journey through Australia's relationship with alcohol. Featuring short expositions and deep dives into incidents, eras, groups and individuals, this collection provides an alternative history of Australian society and culture from the bottom up.
Contributors include Wendy Bacon, Maggie Brady, Rowan Cahill, Bruce Carter, Carol Corless, Daniel A. Elias, Alex Ettling, Gary Foley, Alison Holland, Terry Irving, Phoebe Kelloway, Diane Kirkby, Tanja Luckins, Hamish Maxwell-Stewart, Chris McConville, Iain McIntyre, Lisa Milner, David Nichols, Michael Quinlan, Nick Southall, Jeff Sparrow, Janey Stone and Graham Willett.
What people are saying:
"Knocking The Top Off demonstrates that the social history of alcohol is not just froth and bubble but rather a compelling and insightful way to look through the glass of Australian history, often darkly. Drink deeply of this book. It will satisfy intellectual and literary thirsts alike."
Clare Wright, author of The Forgotten Rebels of Eureka and Beyond the Ladies Lounge: Australia's Female Publicans
"An absorbing read through the alcohol-soaked story of modern Australia from colonialism to the present day."
Verity Burgmann, author of Green Bans, Red Union: The Saving of a City and Globalization and Labour in the Twenty-First Century.
"A fascinating contribution to Australian social and political history, this book is a reminder of the radical current in Australian life. It is also richly-illustrated, full of unexpected discoveries, and a rollicking read."
Sean Scalmer, author of The Little History of Australian Unionism and Democratic Adventurer: Graham Berry and the Making of Australian Politics.
Reviews:
Rowan Cahill 'I'll Drink To That'
About the editors
Alex Ettling (editor) is a social historian who takes a particular interest in the intersections of culture and politics. He has worked as a policy analyst for Creative Victoria, as well as being a co-founder of the Trades Hall Arts Studio. A former bar worker, throughout the 2010s Alex organised pub dance parties raising money for left-wing causes including strike funds, Palestine solidarity and LGBTIQ+ equality. Currently, he volunteers on the management committee of Interventions, and is developing an oral history program at Melbourne's Living Museum of the West.
Iain McIntyre (editor) is a Narrm/Melbourne based historian and community radio broadcaster who has written and edited a variety of books about political activism, music, literature and (un)popular culture. Recent publications include the Locus award winning Dangerous Visions and News Worlds: Radical Science Fiction, 1950 to 1980 (PM Press, 2021) and Environmental Blockades: Obstructive Direct Action and the History of the Environmental Movement (Routledge, 2021). He is a regular contributor to the activist resource website commonslibrary.org
Full Promo Pack:
Pdf
Follow on social media