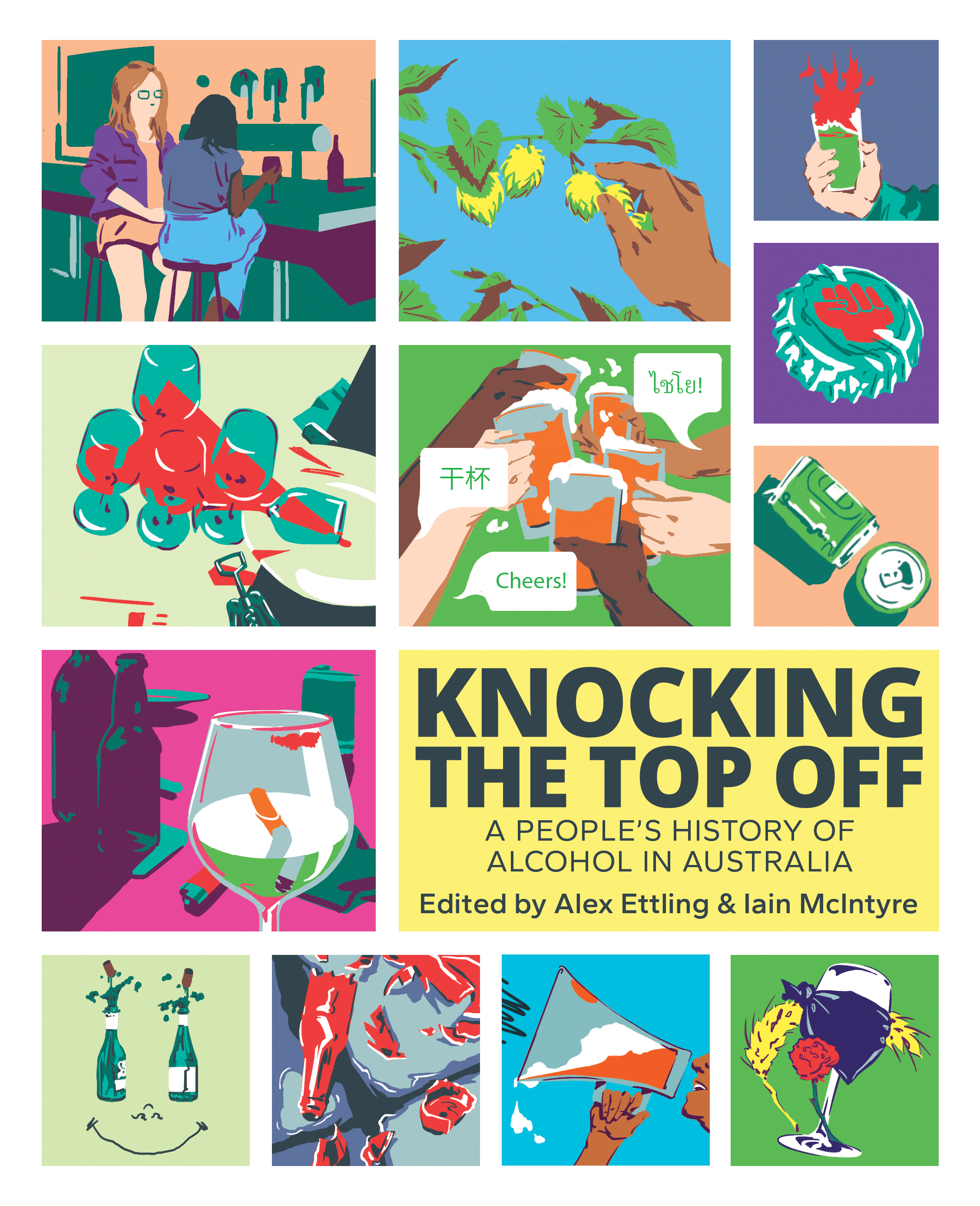 Knocking The Top Off
A People's History of Alcohol in Australia
Release date: November 2023
Knocking The Top Off: A People's History of Alcohol in Australia explores the changing nature of drinking in Australia and the role it has played in social and economic life over several generations. From the early days of colonisation through to the contemporary moment this heavily illustrated collection chronicles the ways in which alcohol consumption has impacted on, and been shaped by, changing patterns and notions of class, sexuality, gender, race, and culture. Stripping back dated stereotypes and defying received ideas, more than 20 contributors provide histories, essays and memoirs offering insights into the role of alcohol in creating, and at times derailing, moments of contestation and change.
Via short expositions and deep dives into incidents, periods, groups and individuals Knocking The Top Off looks at developments in Australian history from the vantage point of workers and marginalised communities, the exploited and oppressed. Alcohol's often contradictory place as a method of recreation, a means of social control, a symbol of equality and liberation, and a sharp point of debate concerning morality, commerce and health is explored. Similarly, the role of pubs, clubs and other alcohol based venues in fostering trends in music, art, and politics is uncovered, as well as their role as places in which exploitation and discrimination has been both reinforced and challenged. In exploring the who, what, where and why of intoxication this collection delivers an inclusive and incisive alternative history of Australia.
Contributors include Wendy Bacon, Maggie Brady, Rowan Cahill, Bruce Carter, Carol Corless, Daniel A. Elias, Alex Ettling, Gary Foley, Alison Holland, Terry Irving, Phoebe Kelloway, Diane Kirkby, Tanja Luckins, Hamish Maxwell-Stewart, Chris McConville, Iain McIntyre, Lisa Milner, David Nichols, Michael Quinlan, Nick Southall, Jeff Sparrow, Janey Stone and Graham Willett.
About the editors
Alex Ettling is a social historian based in Naarm/Melbourne. Alex takes a particular interest in the intersections of culture and politics, having worked as a policy analyst for Creative Victoria, as well as being a co-founder of the Trades Hall Arts Studio. A former bar worker, throughout the 2010s Alex organised pub dance parties raising money for left-wing causes including strike funds, Palestine solidarity and LGBTIQ+ equality. Currently, he volunteers on the management committee of Interventions, and is developing an oral history program at Melbourne's Living Museum of the West.
Iain McIntyre is a Narrm/Melbourne based historian and community radio broadcaster who has written and edited a variety of books about political activism, music, literature and (un)popular culture. Recent publications include the Locus award winning Dangerous Visions and News Worlds: Radical Science Fiction, 1950 to 1980 (PM Press, 2021) and Environmental Blockades: Obstructive Direct Action and the History of the Environmental Movement (Routledge, 2021). He is a regular contributor to the activist resource website commonslibrary.org
Book details for promotional use